Colorado Blvd Specific Plan Amendments Move Forward
Last week, the City Planning Commission unanimously voted to approve amendments to the Colorado Boulevard Specific Plan eliminating a 9 p.m. curfew on all businesses along the corridor. The amendment originated from legislation introduced by Councilmember Huizar and is supported by local groups, including the Eagle Rock Neighborhood Council, The Eagle Rock Association, the Colorado Boulevard Design Review Board and the Eagle Rock Chamber of Commerce. Councilmember Huizar is hoping to schedule this soon in the Planning and Land Use Management Committee of the City Council, which he chairs, to recommend approval by the full City Council.
For more information, please contact Kevin Ocubillo at kevin.ocubillo@lacity.org.
Councilmember Huizar To Chair Homeless Committee
On the heels of a City CAO report that states with approximately 23,000 homeless individuals living in the City of Los Angeles and the City spending more than $100 million annually on the issue with no focused plan to address it, Councilmember Huizar joined Council President Herb Wesson and Councilmembers Bonin, Cedillo and Price Wednesday in introducing legislation creating an Ad Hoc committee that will create comprehensive policy on homelessness in the City of Los Angeles.
Councilmember Huizar will serve as chair and Councilmember Bonin will serve as vice chair of the Ad Hoc committee.
"Homelessness in the City of Los Angeles has become a crisis of epic proportions" said Councilmember Huizar. "It is one of the biggest issues facing the City of Los Angeles, yet we lack a comprehensive plan to address it. In recent years our most constant course of action has consisted of reactionary litigation – that policy has clearly failed us. As a humanitarian, public safety and health issue, it is imperative that we act soon and with urgency. The Ad Hoc Committee on Homelessness will work to create an effective, thorough and thoughtful plan to address homelessness in the City of Los Angeles."
For more information please click here
Read L.A. Times story here
Read KPCC Post here
Olvera Street's 85th Anniversary!

Join Councilmember José Huizar's office on Saturday, April 25 10AM-4PM for Olvera Street's 85th Anniversay. Olvera Street is one of the oldest streets in Los Angeles, a Mexican marketplace that opened in the 1930's. Come celebrate with Olvera Street's merchants and explore Olvera Street's cultural significance.
Day's fun and informative activities include:
• Family Activities
• Live Entertainment
• Live Speakers
• Urban Farming
• Water Conservation
• Health Care Resources
For more information click here 
Utility Box Mural Project Brings Art to Eagle Rock's Streets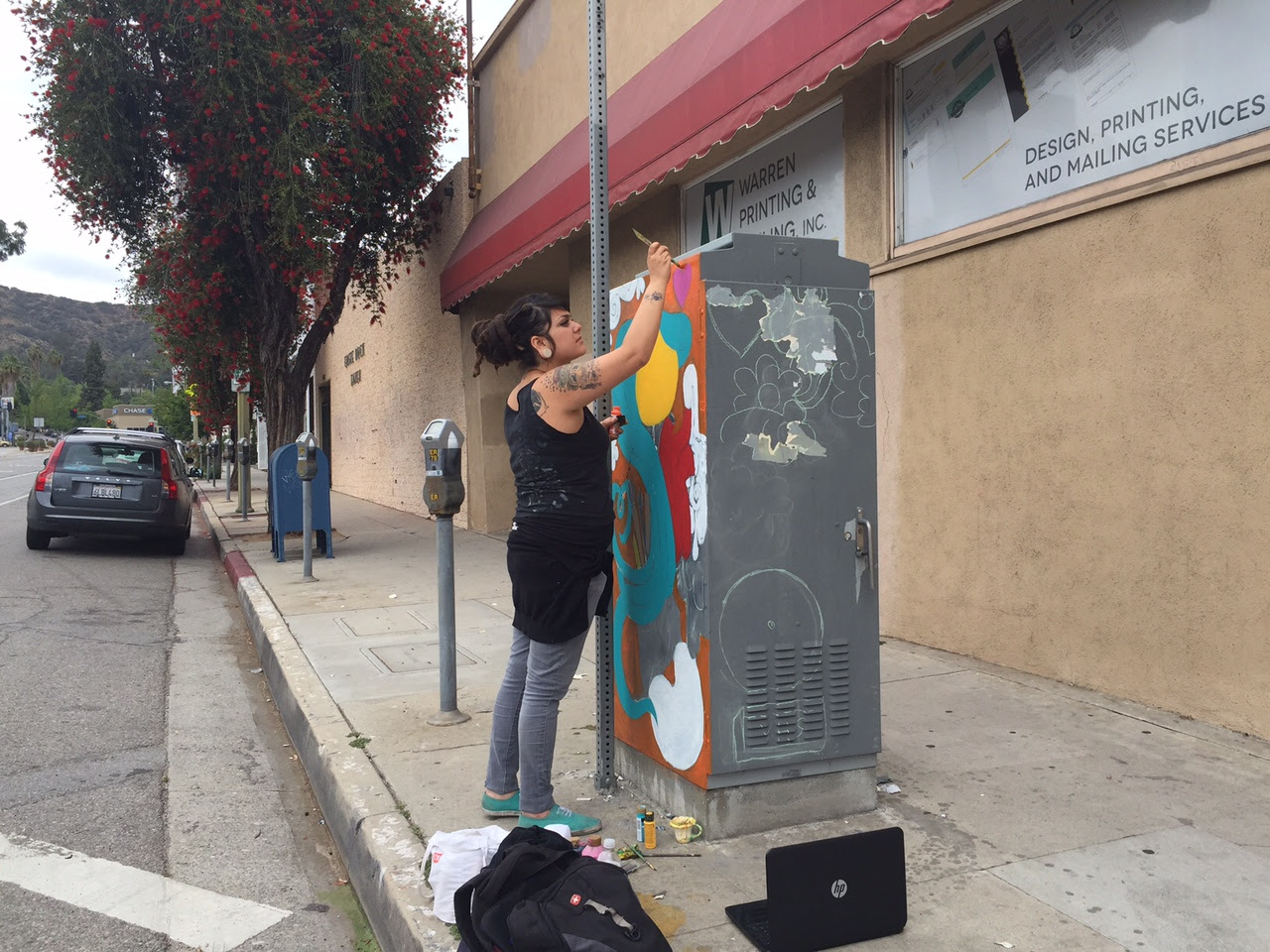 The painting has begun! Starting this week and continuing through
May 15
, artists will paint 17 utility boxes in Eagle Rock on Colorado and Eagle Rock Boulevards.
The project is organized by Councilmember Huizar, the Eagle Rock Neighborhood Council, and the Eagle Rock Association.
Through Councilmember Huizar's Utility Art Box project, more than 80 utility boxes throughout CD14 have been painted so far. Councilmember Huizar stated his support to ultimately see all CD14 utility boxes beautified with murals painted by local artists.
For more information, please contact Lauren Ballard at (323)254-5295 or lauren.ballard@lacity.org.
Over 1,000 Community Members March in Solidarity Against Violence 
The 8th Annual Peace in the Northeast March drew over 1,000 community members in a united demonstration against domestic violence and assaults in our neighborhoods. Thank you to all who came out to demand peace in Northeast Los Angeles!
GANG INJUNCTION FORUM – HOSTED BY HISTORIC HIGHLAND PARK NEIGHBORHOOD COUNCIL
Thursday, April 30 | 7 pm
Franklin High School
820 N Avenue 54
Los Angeles, CA 90042
Join us the Historic Highland Park Neighborhood Council for an educational forum on the gang injunctions in Highland Park. For more information, click here. All questions, comments and concerns should be emailed to monica.alcaraz@highlandparknc.com.
DAHLIA HEIGHTS PTA SILENT AUCTION
Friday, May 1 | 6 pm – 9 pm
All Star Lanes
4459 Eagle Rock Blvd.
Los Angeles, CA 90041
WHAT: Great items to bid on including tickets to Disney; Golden Globe Swag Bag; Tickets to The Voice; Kids Classes; Fine Art from Local Artists & much more. $10 advance purchase/$12 at the door. Buy tickets and learn more here.